Indian-style Scrambled Eggs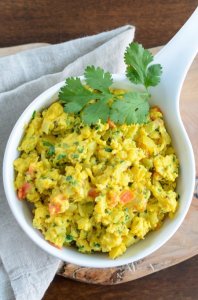 Indian-Style Scrambled Eggs (Egg Bhurji)
Try this nicely spiced dish for breakfast using fresh Yellow Bell Farm eggs…mmmm.
Serves 2
1 tablespoon neutral cooking oil, such as canola
1/2 teaspoon brown or yellow mustard seeds
1 medium onion, diced finely
1 1/2-inch piece ginger, peeled and finely chopped
1 small green bird's eye chili, finely sliced
1 large tomato, chopped
1/8 teaspoon ground turmeric (optional)
4 large eggs, lightly beaten
Small handful fresh cilantro, to garnish
Salt and pepper, to taste
Heat the oil in a skillet and add the mustard seeds. When the seeds start to splutter, about 30 seconds, add the onion. Sauté for 3 to 4 minutes, until just beginning to soften.
Add the ginger and green chili to the onion. Sauté for about 30 seconds, then add the chopped tomato and turmeric (if using). Cook together for two to three minutes, until the tomato is just beginning to break down. Turn down the heat to medium low.
Stir the eggs into this mixture. Cook, stirring occasionally, until creamy curds form, similar to scrambled eggs. Stir in the fresh cilantro.
Season to taste with salt and pepper and serve.
Recipe courtesy of "The Kitchn"