Yellow Bell Farm Sautéed Chicken Livers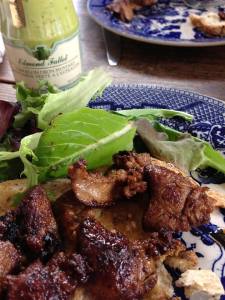 Yellow Bell Farm Sautéed
Chicken Livers…Mmmm!
 Ingredients:
1 package of Yellow Bell Farm Chicken Livers, Flour for dusting, olive oil, salt and pepper, balsamic vinegar
Instructions:
Pat chicken livers dry and lightly toss in flour, salt and pepper. Add olive oil to sauté pan, heat till hot and add livers. Cook till pink inside and no longer juicy. Remove from pan, add balsamic vinegar and render.
Place chicken livers on top of leafy greens, toasted buttered wheat bread or sautéed kale. Drizzle rendered balsamic vinegar over top of livers and enjoy!